Sneaker Cleaner Sponge
Composite Sponge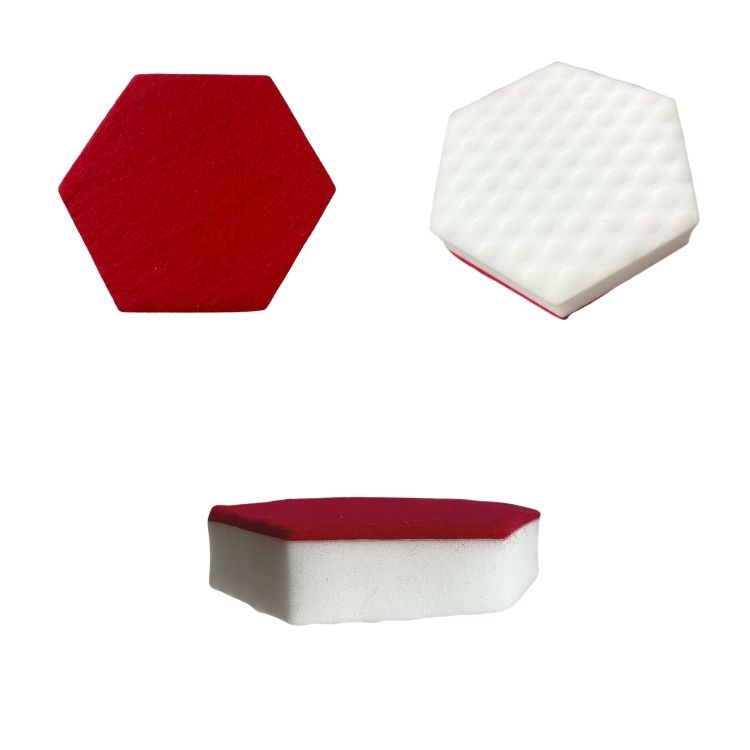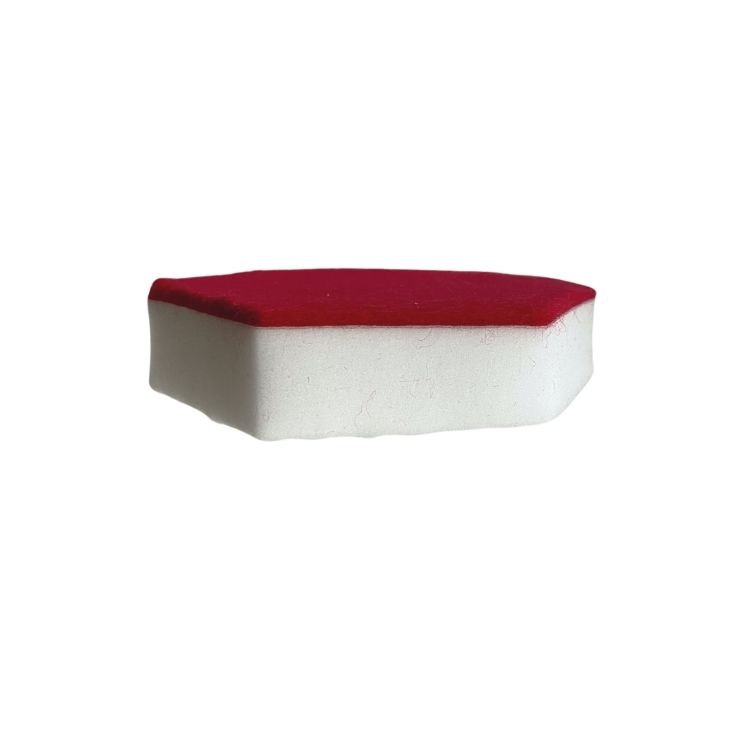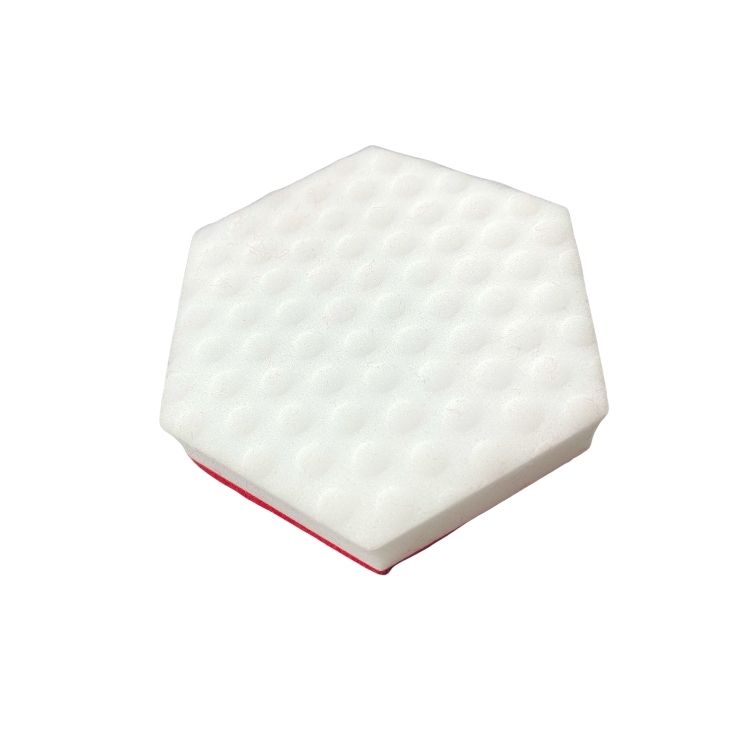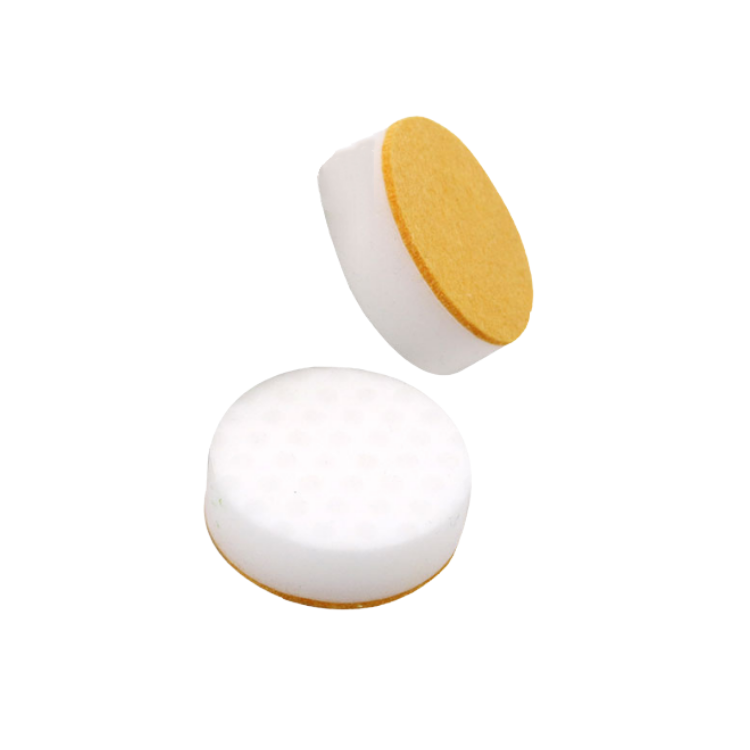 Product name: Sneaker Cleaner Sponge

Material: Melamine Resin+Scouring pad/ non-woven cloth

Size: Customized

Shape: Customized

Color: White+ Yellow/Green/Orange/Pink, etc.

MOQ: 500pcs

Sample: Free, shipping freight by buyer
This sneaker cleaner sponge is made of melamine sponge and non-woven cloth or nylon scouring pad, which make pesky scuff marks and dirt stains instantly disappear from your shoes' and sneakers' soles and mid-soles, and can keep your sneakers shoes looking like new. EnDa sneaker cleaner sponge is a quick, effective, and convenient miracle erasing sponge.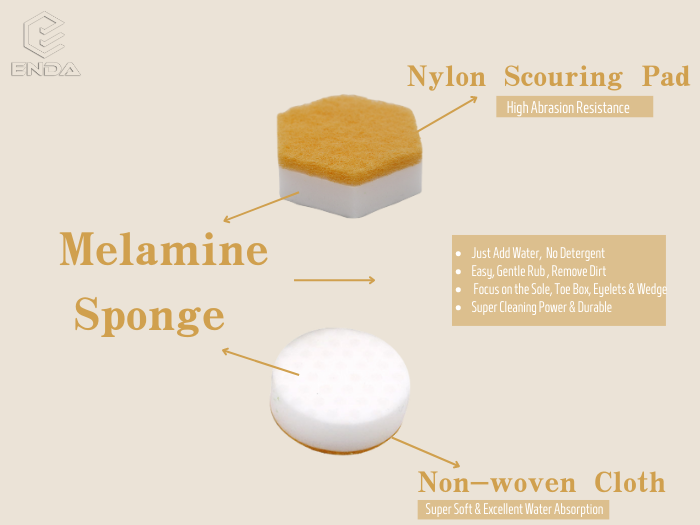 Sneaker cleaner sponge

The Features of ENDA Sneaker Cleaner Sponge
-Physical cleaning, no harsh chemicals, don't damage the sneakers.
-Works on all types of footwear, such as nubuck, canvas, knit, multi-material, suede, etc.
-Easy to take, perfect forremoving dirt & scuff markson your sneakers shoes when you're on-the-go.
The Specification of ENDA Sneaker Cleaner Sponge
Enda sneaker cleaner sponge company can customize various shapes, sizes, and colors of sneaker cleaner sponges according to your needs. The sneaker cleaner sponges' colors of the scouring pads are red, yellow, blue, green, orange, blue, purple, etc., and the sneaker cleaner sponges' shapes are round, hexagonal, rectangular, flowered, etc., you can choose from a variety of styles.
For example, our American customers often repurchase kinds of sneaker cleaner eraser, they are round sneaker cleaner sponge (white melamine sponges combined with green scouring pads or orange non-woven cloth), and the hexagonal sneaker cleaner sponge (white melamine sponge composite orange scouring pad or red non-woven cloth).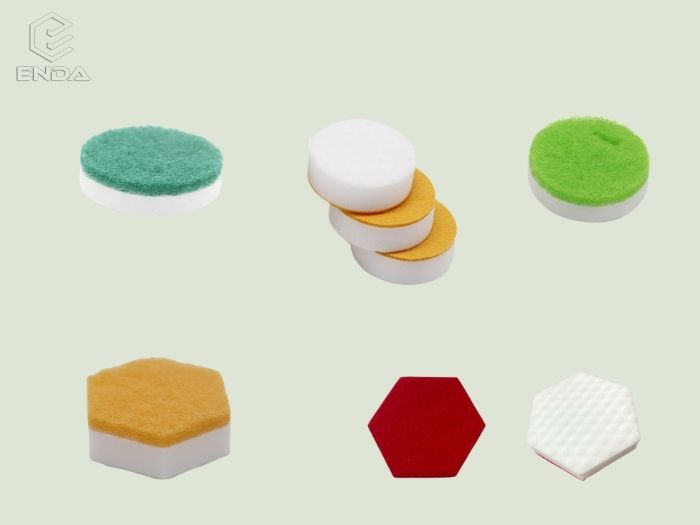 ENDA sneaker cleaner sponge
About ENDA Sneaker Cleaner Sponge Manufacturer
Enda sneaker cleaner sponge manufacturer and trading company has been doing overseas export processing trade for 12 years, which has very rich production experience and a large team. So, the quality of the sneaker cleaner sponges we produce can be guaranteed 100%, and our sales team is also professional, which will definitely bring you an exceptionally perfect purchasing experience.
The most important thing is that we are a sneaker cleaner sponge factory, we produce all the material in our own factory, so our sneaker cleaner sponge cost can be controlled, and wholesale sneaker cleaner sponges from Enda, you can get a unprecedented low price.
If you are interested in our sneaker cleaner sponge or want to get a free quote or free samples, just click the message box at the bottom of the screen and leave us a message, our sales will reply you as soon as possible.
X
lf you have any questions, please leave your contact information so that we can get in touch with you
(Your information is only used to communicate between us and will not reveal your privacy)
lf you have any questions, please leave your contact information so that we can get in touch with you
(Your information is only used to communicate between us and will not reveal your privacy)